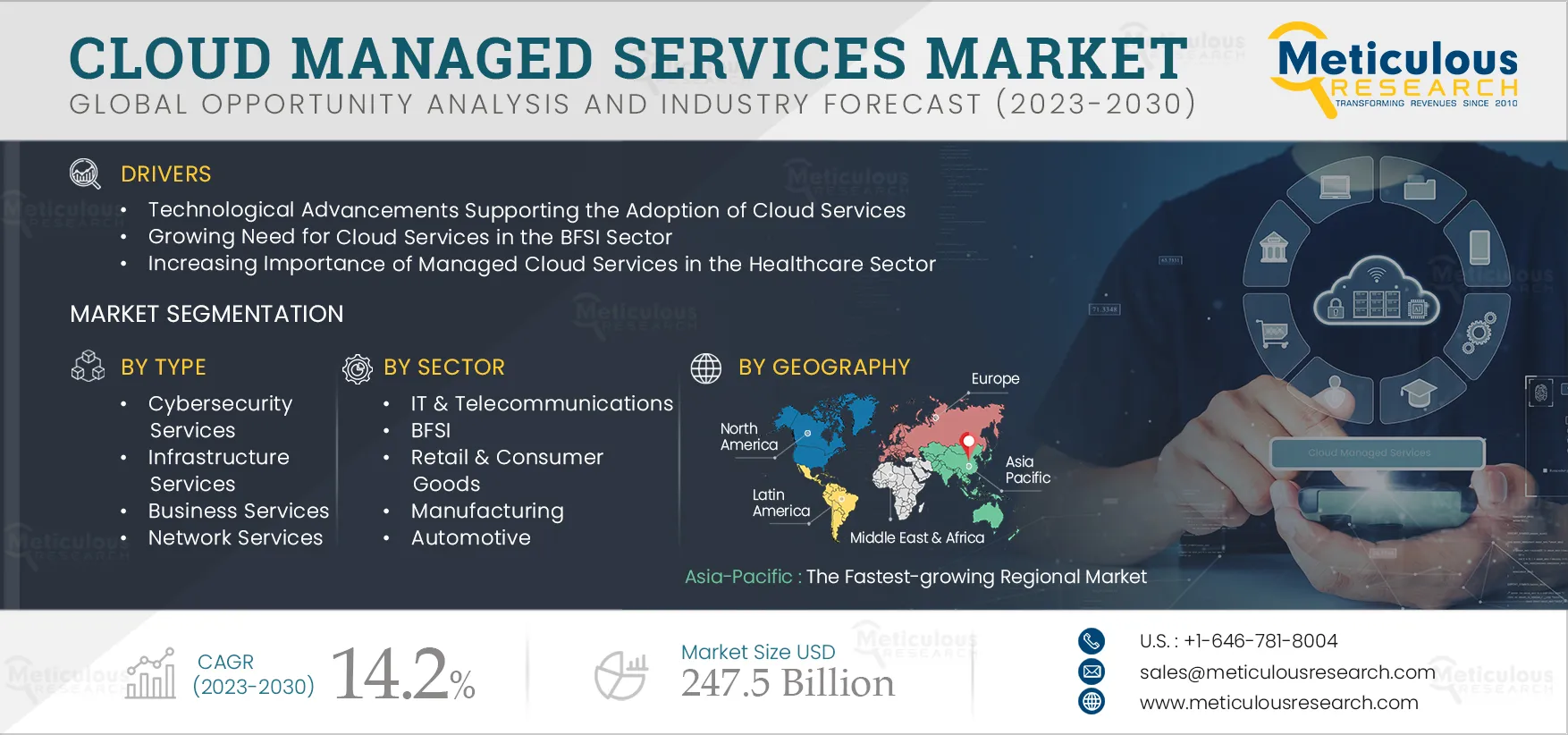 Modern-day banks and other financial institutes are progressively exploring innovative ways to reduce costs and increase operational efficiencies. Cloud managed services have become a game-changer for the BFSI sector and potentially one of the key technological developments changing future operations. Some of the key benefits of incorporating cloud managed services by BFSI organizations include:
Reduction in operating expenditure
Increased Agility
Increased operational efficiency
Ease in scalability
Increased ability of effective disaster recovery
Reduced IT complexity and dependence on in-house expertise
Better regulatory compliance
According to a survey conducted by Google Cloud (U.S.) and The Harris Poll, LLC. (U.S.), 83% of executives associated with the BFSI sector reported that their companies used cloud services in some capacity. Most BFSI organizations (38%) prefer a hybrid approach, as it facilitates security and better control of the private cloud and the flexibility and scalability of the public cloud. Despite the growing adoption of cloud services, many BFSI organizations still hesitate to opt for new technology due to security and data privacy concerns. Managed service providers are undertaking multiple steps and incorporating new technologies and features to gradually convince the hesitant players to opt for services. These factors are expected to boost the adoption of cloud managed services in the BFSI sector, propelling the growth of the market.
Technological Advancements Supporting the Adoption of Cloud Services to Fuel the Growth of the Cloud Managed Services Market
Technologies such as artificial intelligence (AI), Machine Learning (ML), Internet of things (IoT), and Big Data are becoming essential components of modern-day businesses. The cloud managed services are pushing for faster adoption and higher spending on AI technology, facilitating a full-scale deployment of AI. According to the survey conducted by Nutanix, Inc.(U.S.) in January 2022, 70% of companies develop AI capabilities through cloud-based software, while 65% of the companies create AI applications using cloud managed services. Similarly, using cloud services allows an organization to access big data in a cost-effective, pay-per-use, and scalable manner. Experts suggest that small & medium enterprises that are not cloud-native can compete with big enterprises with the help of wide availability of cloud solutions. The ongoing technological advancements are compelling organizations to incorporate cloud managed services, making it an essential component of businesses' IT environments.
Managed cloud services help organizations deploy the cloud faster across all the key areas of their business, thus giving them an invaluable competitive edge for adopting advanced technologies. As organizations are employing cloud services to facilitate automation, and cutting-edge computing technologies, managed cloud services also help lower their capital investments, allowing them to focus on their core competency. It also helps organizations to facilitate freeing up internal resources to support growing workloads, compensating for the lack of in-house resources due to the IT skills gap, and countering the growing sophistication of cyber-attacks. All these factors are promoting the adoption of managed cloud services along with the growth of modern-day technologies.
Increasing Focus on Customized and Managed Cloud Services to Fuel the Growth of the Cloud Managed Services Market
Most cloud managed service providers offer a standard set of features and services to all their customers, often limiting the full potential of the organization and cloud technology. To overcome such shortcomings, managed cloud service providers have gradually started to offer more personalized and customized services. Consumers can choose and pay only for the features they want. This will inculcate a sense of control and security among consumers while using cloud managed services. Services and features, including management of computing storage, network and operating systems, consultation and architectural guidance, managing of tools and applications on a cloud network, system monitoring, alerting and reporting, security & compliance management, and management of digital experience platform can be offered to consumers as an individual feature or a part of the customized suit. Additionally, cloud managed service providers can offer businesses to expand their cloud capability horizontally by adding or removing cloud servers and by increasing or reducing the individual parts of servers. All such customization and personalization features are expected to boost the adoption of cloud managed services, particularly in small and medium scale enterprises.
Access Full Report Here: https://www.meticulousresearch.com/product/cloud-managed-services-market-5485
---
Related Tag:
---