An electrolyzer is a system that uses electricity to break water into hydrogen and oxygen. This process is called electrolysis. Through electrolysis, the electrolyzer system creates hydrogen gas. The oxygen left over is released into the atmosphere and captured or stored to supply other industrial processes or even medical gases in some cases. Hydrogen gas is either stored as a compressed gas or liquefied, and since hydrogen is an energy carrier, it is used to power any hydrogen fuel cell electric application such as trains, buses, trucks, or data centers. The three main types of electrolyzers are proton exchange membrane (PEM), alkaline, and solid oxide.
These electrolyzers function in slightly different ways depending on the electrolyte material involved. Electrolyzers range in size from small, appliance-size equipment well-suited for small-scale distributed hydrogen production to large-scale, central production facilities that deliver the hydrogen by trucks or be connected to pipelines.
Transitioning from fossil fuel-based energy systems to more sustainable ones based on renewables has been a major global concern during the last decade. The energy crisis has increased interest in hydrogen production as the hydrogen produced using electrolyzers has lower emissions and environmental impacts. In addition, the production of green hydrogen has drawn much attention due to its increasing use across multiple sectors, including power generation, steelmaking, green ammonia production, and electricity grid stabilization.
Governments across the globe are investing in green energy initiatives. The World Bank Group is working with developing countries such as Chile, Columbia, and Costa Rica to accelerate and scale green hydrogen projects. The World Bank Group is working to establish green hydrogen as a fuel and promoting its use and storage across steel, semiconductors, and oil & gas industries. The U.S. government plans to invest billions in tax credits, loans, and grants to make clean hydrogen a viable replacement for fossil fuels in transportation, industrial, and refining processes. In addition, the U.K. government plans to invest USD 4.27 billion in green hydrogen production by 2030. As a result, hydrogen will be able to cover 20–35% of the U.K.'s energy requirements by 2050, providing a clean alternative to oil and gas in energy-intensive industries. Thus, increasing investments in green energy initiatives are expected to support the growth of the electrolyzers market.
Moreover, governments worldwide are increasing their focus on hydrogen technologies and establishing targets for deploying low-emission hydrogen production capacities among industries & businesses. How energy is produced, transformed, stored, and used is gradually changing. Rising environmental and climate change concerns have compelled governments to consider promoting hydrogen technologies through various subsidies.
FIGURE 1Hydrogen consumption in 2020 (million tonnes per year)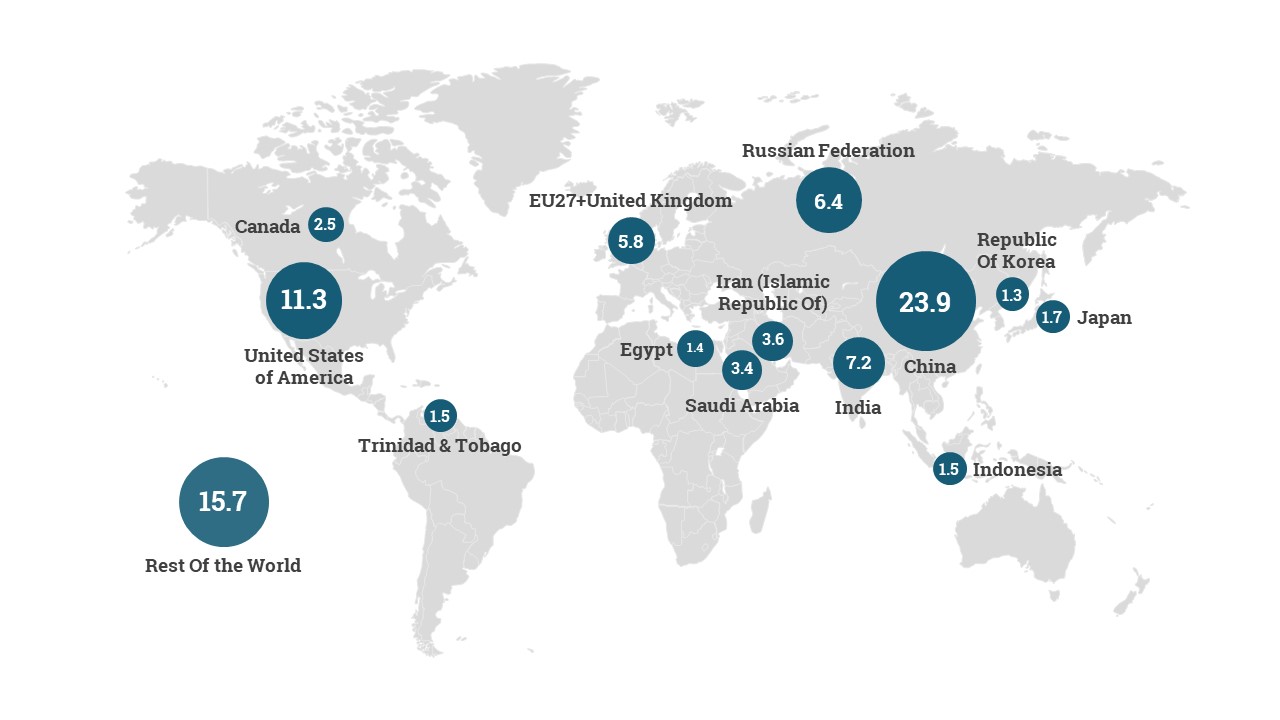 Source: International Renewable Energy Agency (IRENA)
Increasing government investments in improving hydrogen technologies are expected to support the growth of the electrolyzers market. For instance, in June 2021, the U.S. Congress passed the Bipartisan Infrastructure Law, which includes grants for the creation of hydrogen hubs and incentives to foster hydrogen infrastructure and electrolyzer manufacturing. Also, the U.S. Department of Energy has finalized a USD 504 million loan guarantee for a large-scale hydrogen storage project. In July 2022, the European Commission approved EUR 5.4 billion (USD 5.8 billion) to support its first hydrogen-related Important Project of Common European Interest (IPCEI), focusing on hydrogen technologies.
Furthermore, countries are increasingly investing in developing a strict approach to calculating and managing carbon emissions. For instance, Germany plans to invest EUR 9 billion (USD 9.6 billion) in renewable hydrogen to help increase its hydrogen capacity to 5 GW by 2030 and 10 GW by 2040. France has committed EUR 7 billion (USD 7.46 billion) to help the country reach 6.5 GW of renewable hydrogen capacity by 2030. Thus, growing government focus on reducing carbon footprints and expanding hydrogen capacities is expected to boost the demand for electrolyzers, driving the growth of this market.
The Electrolyzers Market is projected to reach $4.27 billion by 2030 from an estimated $1.11 billion in 2023, at a CAGR of 21.2% during the forecast period.
To gain more insights into the market with a detailed table of content and figures, click here:https://www.meticulousresearch.com/product/electrolyzers-market-5458
---
Related Tag:
---